Annual Reports & Financial Statements
A healthy Foundation
We pledge to make every dollar entrusted to the Foundation count and to meet Sainte-Justine's priority needs as efficiently and effectively as possible. To achieve this, transparency, integrity and ethics are at the heart of our priorities.
Since November 14, 2014, the CHU Sainte-Justine Foundation has been accredited by the Imagine Canada Standards program, a distinction awarded to charitable organizations that are recognized for their best practices, good governance and the transparency of their activities. The Foundation demonstrates excellence in five key areas:
Governance of the Board of Directors
Financial responsibility and transparency
Ethical fundraising
Staff management
Volunteer participation
The Foundation has a ratio of administrative fees to donation revenues of 16% (five-year average). For more information, see the CHU Sainte-Justine Foundation registered charity information return for the current year.
Annual Reports & Financial Statements
Because ethics is one of its core values, every year the CHU Sainte-Justine Foundation releases a summary of its activities and the achievements made possible by your donations, along with its financial statements.
Read our annual reports and financial statements and see the work that has been accomplished thanks to the generosity of donors, but also thanks to a qualified, efficient and motivated team, dedicated to the cause of Quebec mothers and children.
2021-2022
2020-2021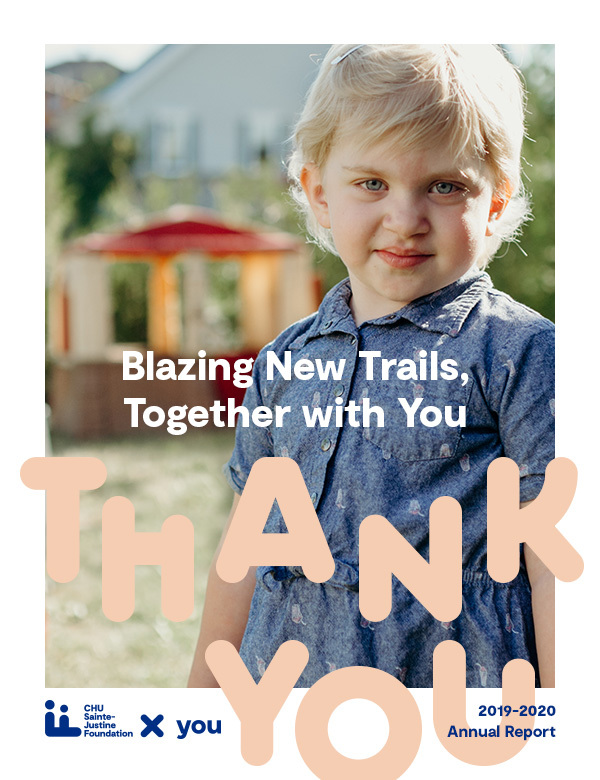 2019-2020