It was a beautiful, sunny summer's day. Perfect for being out on the water. That is, until a serious boating accident almost claimed Anne-Marie's life. Read on to learn more about her journey of resilience, the community that came to her rescue and the second family at Sainte-Justine who have made all the difference in her recovery.
Anne-Marie's heart stopped beating after a serious boating accident on August 23, 2022. Thankfully, a couple of quick-thinking passers-by and the police jumped into action and got it started again. But she had to work hard to relearn some basic skills. The teams of Sainte-Justine played a pivotal role in helping her get her life back.
It was a beautiful, sunny summer's day. Perfect for being out on the water. Fifteen-year-old Anne-Marie was volunteering as a camp counsellor near Shawinigan, helping to transition new students into her school. The day's activities included a canoe race. But just as her canoe was passing under a bridge, it came into contact with an electrical wire. She was thrown into the water and went into cardiac arrest. Her fellow counsellors called out for help. With the assistance of a couple who was passing by with their children, they contacted emergency services, and resuscitation manoeuvres were started. The police took over when they arrived on the scene. It took three defibrillator jolts, but they managed to get her heart started again.
Anne-Marie was transferred to Sainte-Justine and the very capable hands of Quebec's top trauma care team, who treats 75% of the province's most serious accidents on any given year. Despite her showing no outward signs of injury, the shock had caused some considerable damage to her brain. She spent 12 days in intensive care and several more weeks in the hospital.
She had an entire village watching out for her, making sure she had the best possible shot at a full recovery. Marie St-Cyr, an intensive cure nurse, was her go-to person every step of the way and someone her family could lean on during some unfathomably challenging times. Anne-Marie's room proved to be a very popular spot, both for many of the staff members who diligently checked in on her and for her classmates who would come by regularly to visit.
"Anne-Marie fought her fight one day at a time, sometimes even one minute at a time. It was an honor to witness her recovery. Her journey has raised awareness in the Villa Maria community around the importance of having expertise as strong as Sainte-Justine's. We will no longer take this for granted. "
The experience was definitely a frightening one. But never did the spark of hope fade, and that was due in large part to the amazing care she received from some amazing professionals. The physiotherapy facilities in the Sainte-Justine gym, which were set up with the proceeds of the Sainte-Justine Private Schools Youth Challenge, got her started on a rehabilitation regimen. The rest of her time at Sainte-Justine —just over three months —was spent at the Marie Enfant Rehabilitation Centre. It wasn't long until it felt like a second home to her.
10 – AMV
20220917_202029
19 – AMV
4 – AMV
5 – AMV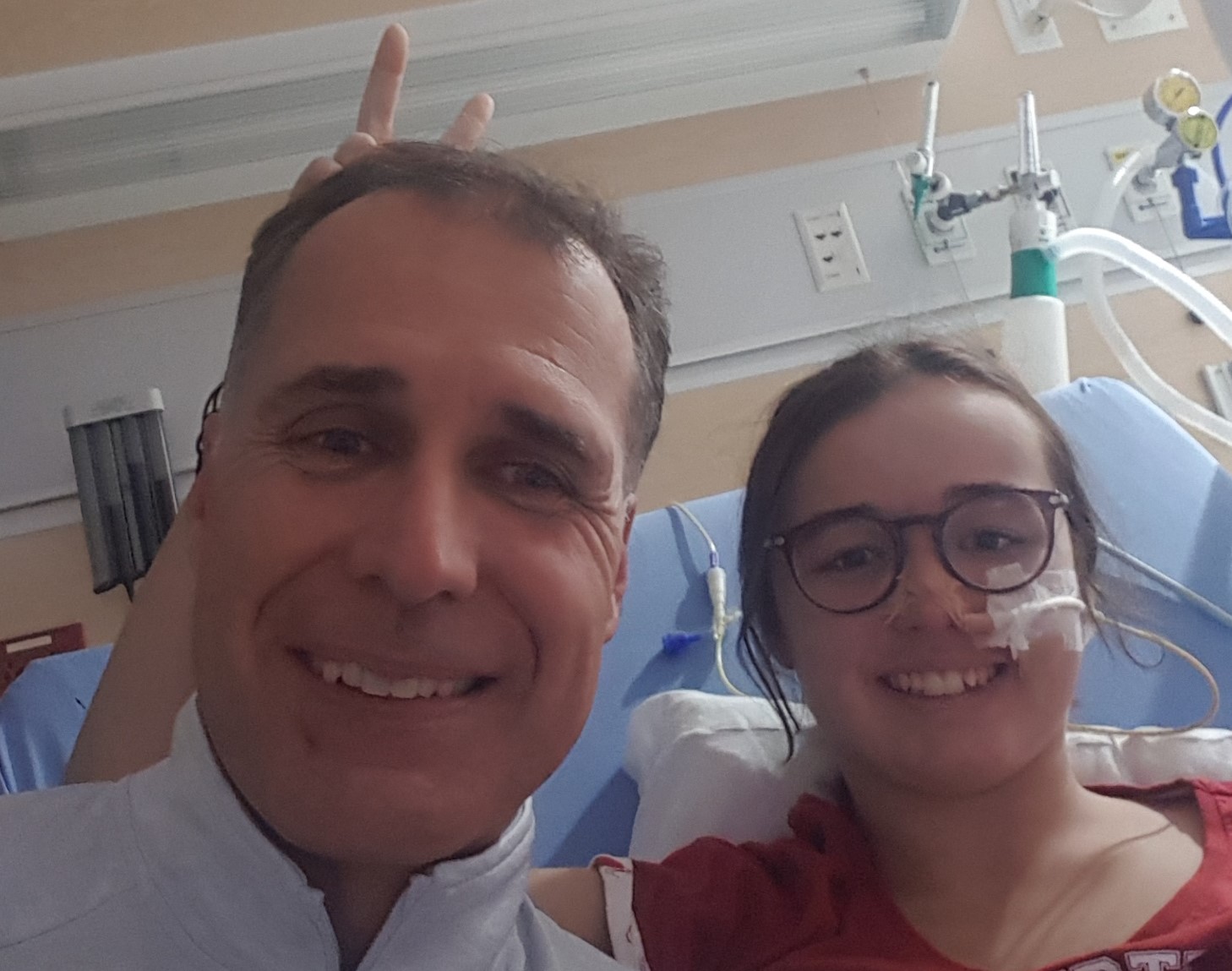 20220920_211323mod
Anne-Marie had to learn how to eat, talk and tie her shoes again. Physiotherapy, occupational therapy, neurology and speech-language pathology appointments became an integral part of her daily routine.
"I had a lot to relearn. Just getting my mouth to open was hard for me at first. I'm not done with rehab just yet, but I'm working hard to push forward. With the help of my family, the team at Marie Enfant and all the equipment they have, I know I'll eventually get there."
She has no memory of that fateful day. But she'll never forget all the incredible people she has met since then. With the help of the Sainte-Justine community, of which you are a cherished member, she continues to make progress.
The Youth Tree of Lights: Young People Stepping Up for Sainte-Justine
Anne-Marie wants to show her gratitude by giving back to the hospital to whom she owes her life. That's why she'll proudly be serving as one of the ambassadors of the Youth Tree of Lights. She invites you to join her in having a profound difference on young lives across Quebec and to bring a ray of hope to families as the holidays draw nearer. The patients of Sainte-Justine and the people who love them need all the support they can get.
In November, the Fédération des établissements d'enseignement privés (FEEP) will be kicking off their fundraising efforts, bound and determined to light up the bottom of the Sainte-Justine Tree of Lights. They'll then hand over the torch to donors across the province to make the entire tree glow brighter than ever before. Participating students will reach out to people they know and ask them to "buy" lights for $5 apiece. Their goal: to set a total of 140,000 bulbs ablaze and raise $700,000 for Sainte-Justine.
Teens dream big, act boldly and make over-the-top their norm. Like them, for them and with them, the CHU Sainte-Justine Foundation sees beyond the impossible to redefine what's possible. Your gifts today are leading the way to a healthier tomorrow. Because when it comes getting the very latest pediatric breakthroughs to our patients' bedside, every minute counts. Thank you for turning the Tree of Lights into a constellation of hope for a brighter tomorrow.